About School of Postgraduate Studies
The School of Postgraduate Studies (SPS) focuses on the attainment of new frontiers in training, scholarship, research and innovation that will lead to major discoveries and breakthrough in various fields of academic that will break new grounds in academia, industry and government.
The School of Postgraduate Studies, Landmark University received National University Commission (NUC)'s operational approval to kick of academic activities on Wednesday, 22nd November 2017.
However, the move to commence the School of Postgraduate Studies (SPS) was first made by Landmark University Management in September 2014 under the leadership of the then Vice-Chancellor, Professor J. O. Afolayan. This was shortly after the convocation of the first set of graduates (Light Set). As a result, the then Director of Academic Planning, Prof. R. D. Olarinoye, was given the directive to commence the immediate collation of postgraduate Programmes' Curricula. The first set of these Curricula was considered and approved in the 36th Senate Meeting, held on 20th July, 2015.
The quest to establish a Postgraduate School was furthered under the leadership of Professor Aize I. O. Obayan, who was the Vice-Chancellor of the University between August 2015 and August 2017, she inaugurated a Landmark University Postgraduate Working Group, chaired by Professor C. O. Aremu, with the central objective of facilitating the take-off of SPS. The Working Group facilitated the approval by Senate, at its 37th meeting held on 8th September, 2015, to commence the School of Postgraduate studies. However, the first set of postgraduate students officially resumed for the maiden 2018/2019 Academic session on 10th September, 2018 owing to logistic reasons.
The School of Postgraduate Studies Board performs oversight functions to the SPS, the board was inaugurated by the 3rd Substantive Vice-Chancellor, Prof. Adeniyi Olayanju and the Registrar, Dr Azubuike Ezenwoke, on Wednesday, 10th January 2018. This inauguration enthused the committed takeoff of SPS in the 2018/2019 Academic Session. The School had since been growing in leaps and bounds.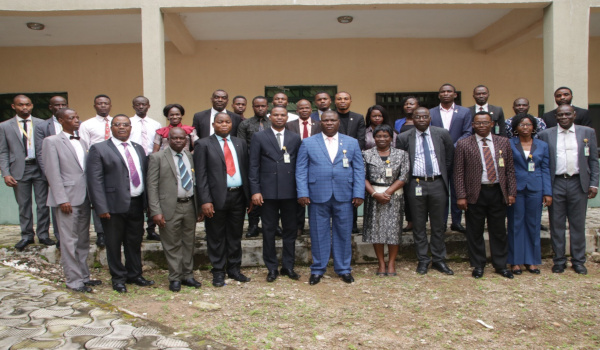 Vision
To become a world-class School of Postgraduate Studies by raising highly qualified academic scholars who are trained in diverse subject areas to become front liners in teaching, research, entrepreneurial and agrarian revolution methodologies needed to service humanity for economic transformation and manpower development.
Mission
Producing quality postgraduate students equipped with sound spiritual and broad-based academic knowledge that will be used to translate and transform the society, thereby meeting the needs of the black race and other nations of the world.
Raising postgraduate students, who will be intellectual Think-Tanks that will culminate into eliminating poverty, hunger and become job producers through ground-breaking and cutting-edge research innovations.
Empowering the postgraduate scholars with quality academic knowledge to become trainers of manpower in the academic world.
Philosophy
Landmark University School of Postgraduate Studies philosophy shall be to revive, change and return the lost glory in technology, economy and social status of Nigeria and other nations of the world, through sound spiritual, ethical, innovative research and academic training.
Core Values
Our operations shall be guided by certain core values including:
Spirituality
Possibility Mentality
Capacity Building
Integrity
Responsibility
Diligence
Sacrifice
Research Policy Objectives and Operational Strategies
It is expected that this Research Policy document will:
Commit both Faculty and Staff to quality research practice that emphasizes collaborative efforts for continuous growth and improvement in the community/society;
Embrace internationally recognized standard practice in research that supports innovations for growth and development;
Encourage research students to publish journal articles using internationally recognized outlets;
Foster efforts towards active and ground-breaking research for award winning;
Promote the University visibility and ranking among world-class citadels of learning;
Discourage student programme delay beyond the approved programme duration;
Lead to the training of industry-ready graduates/manpower.
Subscribe to our Newsletter
Get the latest news and updates by signing up to our daily newsletter.